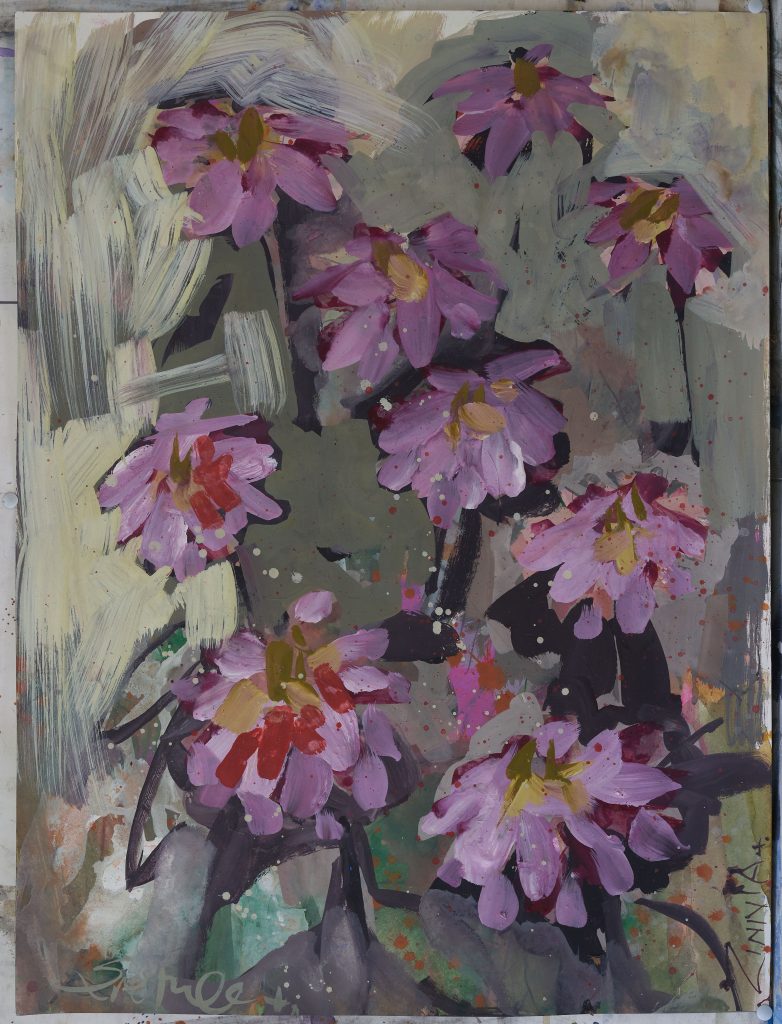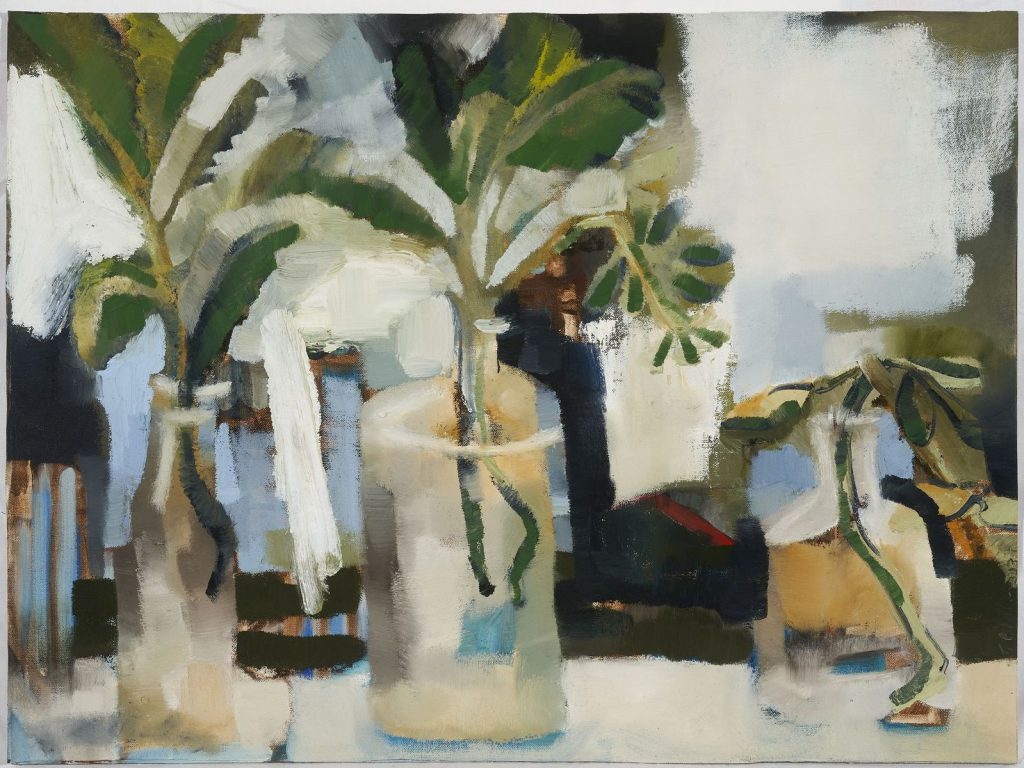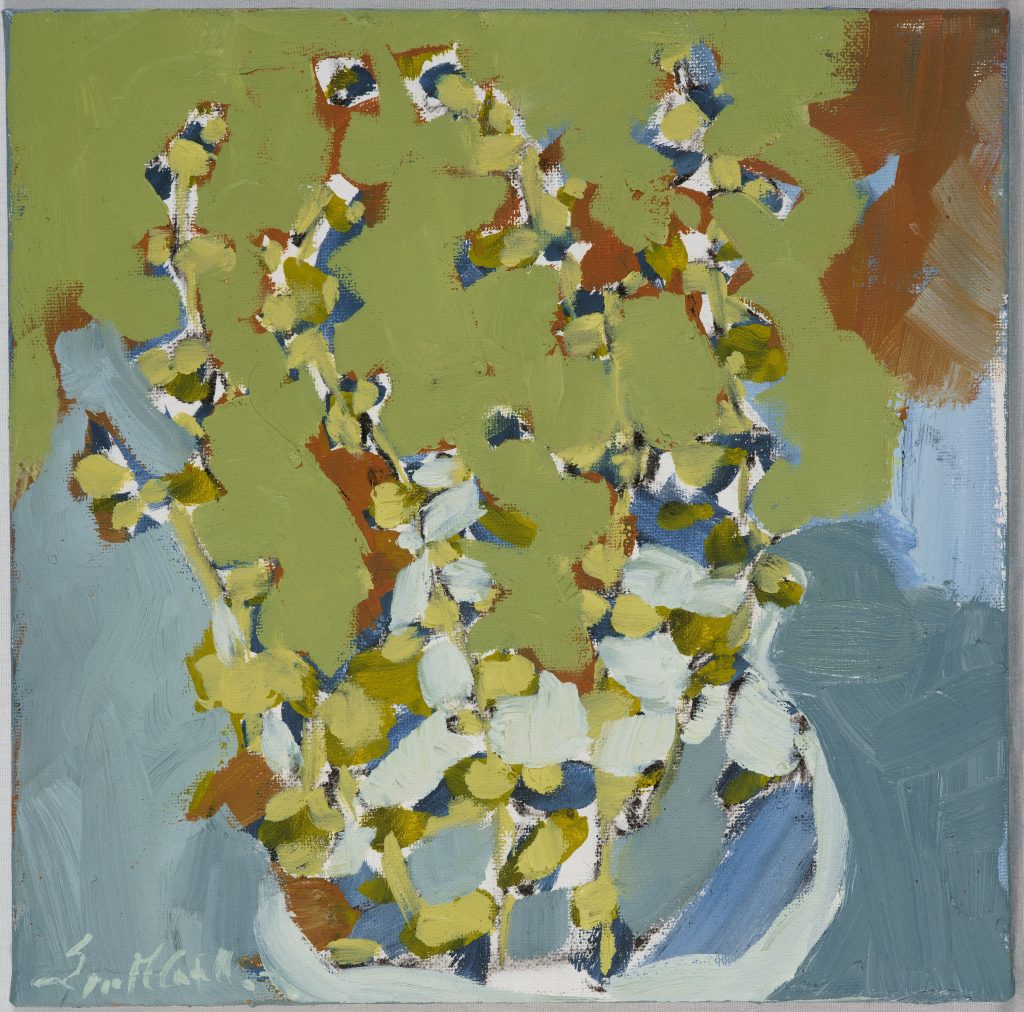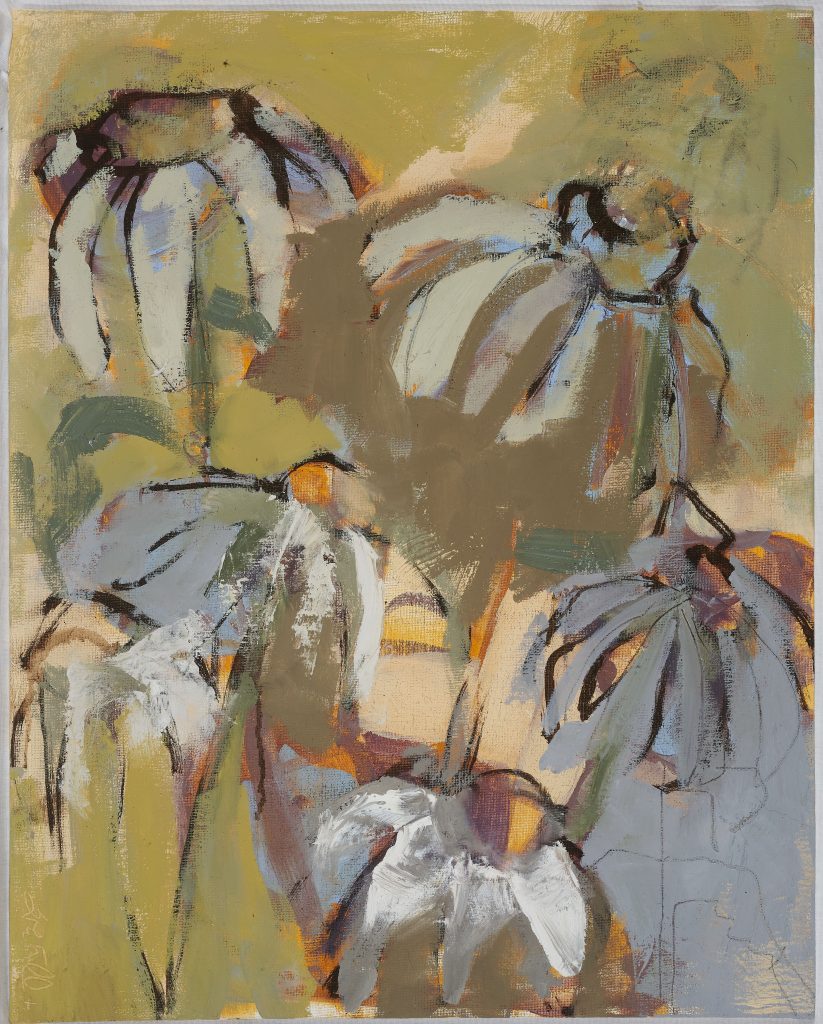 biography
Erin McGee Ferrell, Contemporary Professional Oil Painter and Arts in Health Advocate teaches 2D Design at The University of New England. McGee Ferrell is Published Researcher and Patient Advocate for the Arizona Cancer Evolution Center, a National Cancer Institute Research Advocate, Arizona State University, CSBC, and the Department of Defense as a consumer reviewer for the Congressionally Directed Medical Research Programs (CDMRP). Ferrell was raised with a Nigerian upbringing; family having spent 35 years in Ekiti State. She has spent time painting in West Africa, Scotland, and Greece. Focusing a project in Ecuador, Erin has documented natural pigments from the Amazon Rain Forest. Born in Kentucky, Ferrell now lives in Maine. Erin is a graduate of Mount Holyoke College and University of the Arts Philadelphia and has studied at Pennsylvania Academy of Fine Arts, University of Louisville in Italy, School for International Training in Nigeria, the Artist Students League of New York, and Maine College of Art.
Creator of The Pirate Crew Paper Doll Breast Cancer Educational Series, Ferrell is passionate about visual translation in Medicine and Research.
education
2018 Amazon Learning Services Project, Tena, Ecuador
2009- 2011 Teaching Artist Certificate, UARTS Philadelphia
1994 B.F.A. Studio Art / African Studies. Mount Holyoke College, MA (cum laude)
1993 Nigeria Culture and Art Immersion Project in Nigeria, West Africa. School for International Training, Brattleboro, VT
1989 Italian Art and Language Immersion Project in Perugia, Italy. University of Louisville, Kentucky
events
2022 Exhibition Assistant, National Cancer Institute Art and Cancer, Arizona State University.
2022 Art Instructor, US Navy Bahrain, MWR Intro to Drawing and Painting Workshops April
2022 Founding Member, NCSA Navigating Cancer through Science and Art Working Group National Cancer Institute
2022 Presenter, The Episcopal Church and The Visual Arts, Visual Arts in Christian Education 1940-1980, February
2021 -2022 Department of Defense Consumer Reviewer, Congressionally Directed Medical Research Program CDMRP
2021 Poster Judge, 2021 National Cancer Institute PS-ON Annual Investigators meeting, August
2021 Presenter, Physical Sciences Oncology Network Outreach, National Cancer Institute. Meeting, May 13
2021 Creator and Presenter, "The Art of Intent", Cliff House Resort Guest Series, Ogunquit, Maine May 8.
2021 Art and Medicine Symposium Presenter. Dartmouth-Hitchcock Medical Center, NH, January
2020 Art and Science Symposium Presenter, University of New England, Maine Dec 5.
2020 C-Word Podcast Guest. Arizona State University CSBC Center
2020 Cancer Outreach Poster Presenter, Cancer Systems Biology Consortium, National Cancer Institute Sept.
2019-2021 Patient Advocate Arizona Cancer Evolution Project, Univ of Arizona
2021 Patient Advocate, Physical Sciences in Oncology. National Cancer Institute.
2020 Medical Poster Judge, Physical Sciences in Oncology Conference. National Cancer Institute.
2020- 2022 Adjunct Assistant Teaching Professor. University of New England, Maine
exhibitions
2022 National Cancer Institute Art and Cancer Exhibition, Arizona State University Bio Design Center, April
2022-2023 Thomas Moser Gallery- 50th Anniversary Art Show, Freeport, Maine. May-January
2022 The Art Students League of New York, Student Salon, January 31–June 3
2022 Portland 11th Biennial Art Exhibition. Greenhut Gallery. Portland, Maine. March
2021 Art of Narrative, Greenhut Gallery. Portland, Maine. November
2021 Assoc of Hawaiian Artists 2021 ALOHA SHOW. Virtual. Honolulu, Hawaii. May
2021 Third Biennial Maine Landscape Show — Maine, the Painted State. GreenHut Gallery. Portland, Maine
2021 Cancer: Never Give Up 2021 international online group exhibition. Gallerium Ontario – CANADA November
2017-2021 Cliff House Resort Gallery, Ogunquit, Maine
2020 Assoc of Hawaiian Artists Contemporary Show. http://ahacontemporary2020.com/erin-mcgee-ferrell Dec
2020 Gallery 100, The Built Environment, Portsmouth, New Hampshire
2019 AHA Miniatures Show, Ho`omaluhia Botanical Garden. Kaneohe, HI. November
2019 BioCT Bio Inspired Art Exhibition, Groton, Connecticut. August-September
2019 "Garden Grow," Greater Portland Immigrant Welcome Center, Maine
2019 "Suffering," The Episcopal Church and the Visual Arts. Juried Exhibition. ECVA.org
2018 "Verge, "Creative Portland Juried. October-November. Portland, Maine
2014-2019 Cape Elizabeth Juried Plein Art Event. Paint For Preservation, Maine
2018 "Barter, Barter, Emerson: The Painters From Maine." Thomas Moser Gallery, Freeport, ME
2018 "Portland Paintings," Thomas Moser Gallery, Freeport, ME
2017 DownEast Magazine Selected Artist. "Gala of Giving" Oct. Maine
2017 Wausau Museum of Contemporary Art. Wisconsin
2017 Online Juried Exhibition. Episcopal Church and the Visual Arts. ECVA
2017 Hall- Barnett Gallery New Orleans. June
2016 Maine Historical Society Featured Commission, Portland Press Hotel." Sept
2016 Taste of Tidewater. University of Southern Maine. August
2016 Wex, Inc. "Fleet on the Road Exhibition." Portland, Maine. June
2016 House of Art, Ft. Lauderdale, Florida. May Mixed Media Show
2016 Portland Art Gallery, Maine. Eric Hopkins Debut. Group Show April
2016 Swanson Reed Contemporary Gallery, Louisville, Kentucky February
2016 B Deemer Gallery, Louisville, Kentucky
2015 Maine College of Art. Fall Art Show/Sale, Portland, Maine
2015 Portland Art Gallery. September 2015, Portland, Maine
2015 Maine Preservation Annual Gala, Rams Island Farm, Cape Elizabeth, ME
2015 Plein Air Telluride Art Exhibition, Telluride, CO
2015 Paint For Preservation. Cape Elizabeth Land Trust, ME
2015 Adc Art Consultants. Art Comes Alive Show. Cincinnati, OH
2015 National Juried Exhibition. Washington Art Association, CT
2015 International Art Exhibition. 2015 World Police and Fire Games, Fairfax, VA
2015 Cape Fear Botanical Garden Art and Flower Show, Ellington-White Gallery, NC
2015 National Painting Competition, Emerald Spring, Oregon
2015 Inliquid 2015 Art Show, Philadelphia, PA
2015 Texas National. Stephan Austin State University, Texas
2015 Art Unleashed, University of the Arts, Philadelphia, PA
2015 Once Upon a Time, The Studio Door, San Diego, CA
2015 Earthly Abstractions, Arts Council Fayetteville, North Carolina
2015 CORE New Art Space: Losing Love. Denver, Colorado
2015 THE CROW SHOW: International Show THE STUDIO DOOR
Curated by Jenna S. Jacobs, the Curator Museum of Contemporary Art San Diego
2015 Portland Art Gallery January Show, Maine