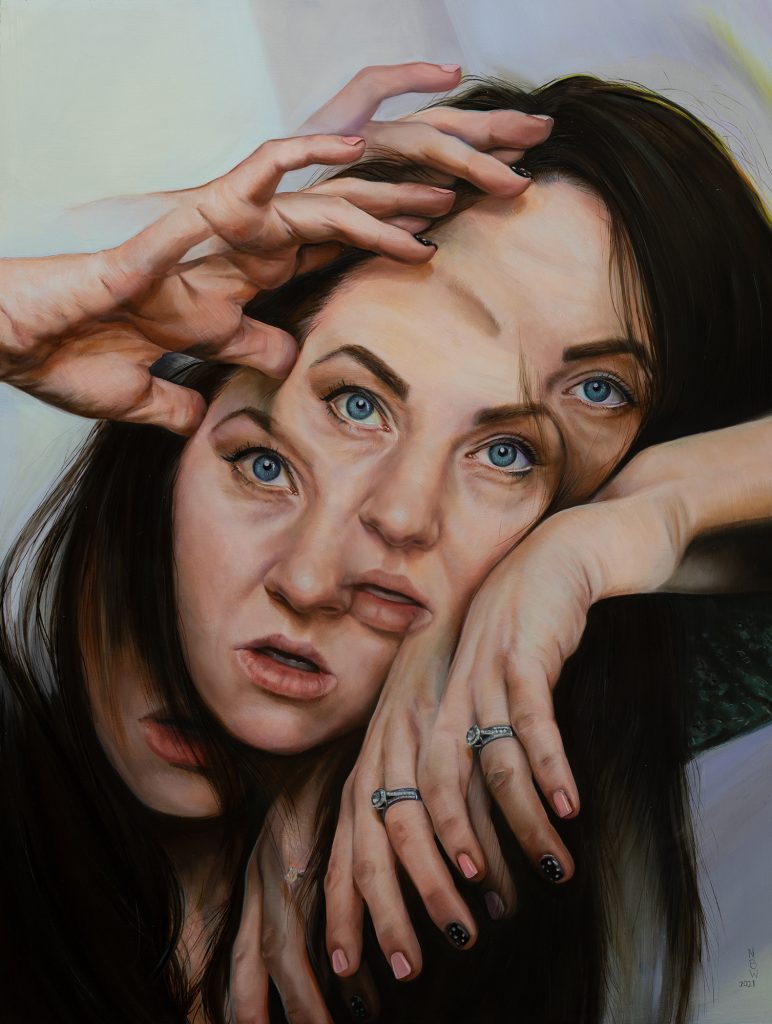 biography
Nicole Woodruff (b.1986) is an American figurative painter living in the state of Utah, where she was born and raised. Nicole is currently represented by D. Anthony Gallery in Wausau, WI.
Nicole has been a finalist in National and International exhibitions such as the International Biennial Portrait Competition receiving an Honorable Mention, and the Annual National Portrait Competition.
artist statement
The fractured images in my paintings represents the gray within us-the mid-tones of life. Just as the colors opposite on the color wheel will neutralize the other creating beautiful mid-tones. The gray is the commonalities, the gray is found in the compromise. The gray is seen with empathetic eyes. My paintings explore moving through space and time in our physical bodies, finding and losing one another as we go.
education
Weber State University, Ogden, Utah, Bachelor of Fine Arts, Art Education, 2012,
Cum Laude 
collections
Nicole's work is included in private collections as well as on the moon:
The Lunar Codex, The Peregrine Collection, Lunar South Pole, The Moon
publications
2022 LEONARDO Art Guide, ArteLibre
2021 Fine Art Connoisseur, December, As Artists See themselves
2021 PoetsArtists, International Women's Day
2020 Fine Art Connoisseur, Tranquility in Troubling Times
2020 Hashtag Art Mag, Q and A with Nicole Woodruff
solo exhibitions
2021 The Paresthesia Perspective, 33 Contemporary
selected group exhibitions
2022 Collected (2022), 33Contemporary
2022 ModPortrait, MEAM (European Museum of Modern Art)
2021 Allied Artists of America 108th Annual Exhibition, Salmagundi Club, New York
2021 PTFN: Paint the Figure Now IV, Wausau Museum of Contemporary Art, Curated by Steven Alan Bennett and Dr. Elaine Melotti Schmidt
2021 IBPC: International Biennial Portrait Competition, Wausau Museum of Contemporary Art, Curated by David Hummer, HONORABLE MENTION
2021 International Women's Day Postcard Popup, 33 Contemporary
2021 Collected (2021), 33 Contemporary
2020 Wausau Museum of Contemporary Art Annual National Juried Exhibition IV, Curated by Sergio Gomez
2020 Shelter curated by Dr. Samuel Peralta, 33 Contemporary
2020 Painting the Figure Now, Wausau Museum of Contemporary Art, Curated by David Hummer, Didi Menendez and F Scott Hess
2020 Ardent Olders, Curated by Jennifer Seale, 33 Contemporary
2020 Ambivalence, Curated by Carole Hodes, 33 Contemporary
2020 November 2020 Curator's Choice, curated by Didi Menendez, 33 Contemporary
awards and presentations
2021 Honorable Mention, International Biennial Portrait Competition, WMOCA
2019 Honorable Mention, Faces and Figures Online Juried Exhibition
2011 National Conference of Undergraduate Research Presenter, Elizabeth Dee Shaw Gallery, Ogden, Utah 2011
2010 Scholarship of Merit, Weber State University